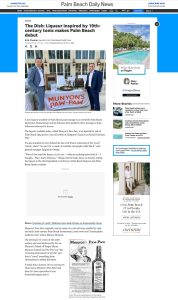 A new liqueur available in Palm Beach pays homage to an erstwhile Palm Beach landowner-businessman and his dubious elixir peddled with a message of hope followers embraced in droves.
The liqueur available today, called Munyon's Paw-Paw, is an aperitif for sale in Palm Beach ($34.99 for a 750 ml bottle) at Hampton's Liquors on Royal Poinciana Way.
It's also available in town behind the bar at Al Fresco restaurant at Par 3 Golf Course, where "we use it in a couple of cocktails and people really like it," said general manager Epigmenio Ortega.
"When I first tried the liqueur on its own — without anything mixed with it — I thought, `Wow, that's delicious,'" Ortega told the Daily News on Sunday, noting the liqueur is the chief ingredient in Al Fresco's Palm Beach Negroni and Palm Beach Spritz cocktails.
An Old Fashioned Remedy
Palm Beach Illustrated
An Old Fashioned Remedy
Local friends revive Munyon's Paw-Paw aperitif 100 years after it's original Palm…
Munyon's Paw-Paw Steeped in Florida History
Press Release
Munyon's Paw-Paw Steeped in Florida History
(PRESS RELEASE) February 28th, 2023 – Munyon Island Spirits Company launches Munyon's…